Lighthouse West Schouwen Haamstede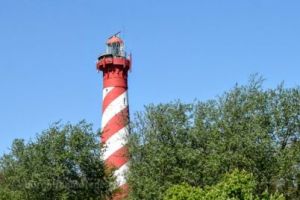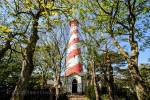 The Westerlichttoren or West Schouwen is a lighthouse in Haamstede, Netherlands. The Lighthouse is situated in the dunes near Nieuw-Haamstede, from where you'll be able to take nice walks through the dune landscape.
Designed by L. Valk, is watching the shipping traffic on the North Sea since 1837. At 53 m above ground and a light stand at 58 m above sea level it is one of the tallest lighthouses in the Netherlands. The light beam of the tower has a reach of almost forty kilometres on the sea and has a luminous intensity of approximately five million candelas. The light character belongs to the group flashing light and produces 2 + 1 flashes every fifteen seconds.
This lighthouse was well known by the public as it was used for the former 250 Dutch guilder note designed by Ootje Oxenaar.
The tower got its striking colours when the airport Haamstede was built in 1934. This way the pilots were already able to see the lighthouse from a long distance. The lighthouse is built in brick and iron, the walls are 2.4 m thick at the bottom, tapering upward. It is painted in a red-and-white spiral. A stair of 226 steps, in stone and partially in iron, leads to the top. The lighthouse is unattended.
The lighthouse is not open to the public.
Characteristic
Name: Westenschouwen
Built: 1837
Tower height: 50,0 m
Light height (above sea level): 58,0 m
Floors: 2
Stair treads: 226
Manned: No
Open to the public: No, unfortunately the lighthouse cannot be visited.
For information:
Vuurtoren 1, Burgh-Haamstede