Gastshuiskerk Zierikzee - Church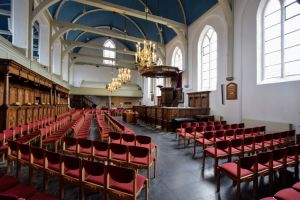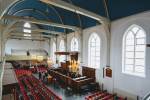 De Gasthuiskerk of Kleine Kerk is een protestantse kerk van de Nederlandse Hervormde Kerk in Zierikzee.
Oorspronkelijk werd hier in de 15e eeuw een kapel gebouwd aan het voormalig gasthuis dat vermoedelijk in de 14e eeuw gesticht werd en een onderkomen gaf aan arme vreemdelingen op doorreis en behoeftige zieken. Toen de Nieuwe Kerk nog in gebruik was, werd de Gasthuiskerk de Kleine Kerk genoemd. Van 1948 tot 1958 werd de kerk zowel in- als uitwendig grondig gerestaureerd en in 1992-1994 werd het interieur nogmaals hersteld en ingericht.
De kerk is tijdens juli en augustus van zondag tot en met vrijdag tussen 13.30 uur en 16.30 uur te bezoeken.
Furthermore Gastshuiskerk Zierikzee is near the following sights: City Hall Museum Zierikzee (±150 m), Frisia cruises (±350 m) & Museumhaven Zeeland (±500 m).
For information:
Havenplein 17, Zierikzee
tel. +31 111 412 073
web.
Website