Huis van Burgh - Attraction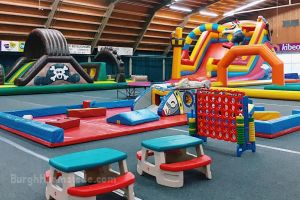 Huis van Burgh is a beautiful location with many possibilities. Situated on the N57, we offer various ways to have fun.
Children's fair
Children can also enjoy themselves. The little ones can play all year round in the indoor playground the Kraayehut. Run, play and romp around in the large indoor playground children's fair 't Kraayenest with various bouncy castles.
Bowling
After entering Huis van Burgh, walk through and reach the bowling alleys! Decorative paintings on the side walls feature the theme 'sun, sea and beach in Zeeland'. Here you can go for a fun morning, afternoon or evening of bowling, young and old alike!
Tennis
Want to hit some balls....to get some exercise....or something more competitive? You can join us both in summer and winter! In summer, the 4 outdoor courts await you. In winter, you can also use our 3 indoor tennis courts!
Badminton and indoor sports
In our multifunctional sports hall, you can play badminton, among other things. Badminton is a fast and exciting sport. Are you a recreational athlete or a more experienced one? Our hall is open to everyone.
Miniature golf
The miniature golf course at Sports Centre Huis van Burgh has 18 holes. Playing miniature golf is especially fun because of all the surprising elements. All courses have an obstacle in the form of a bend or hill. Complete the different courses with as few strokes as possible. Take up the challenge and play with the whole family, with friends or let the children play by themselves. An exciting challenge for young and old.
Furthermore Huis van Burgh is near the following sights: De Burghse schoole (±600 m), Golf Farm Molenberg (±650 m), Slot Haamstede (±1,4 km), Passagiersschip de Onrust (±1,9 km) & Climbing Forest Westerschouwen (±2,4 km).
For information:
Daleboutsweg 9, Burgh-Haamstede
web.
Website