Funhouse Renesse - Attraction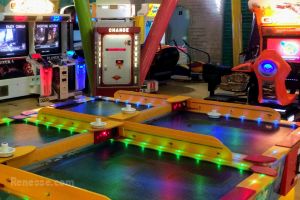 Funhouse Renesse is an indoor fun fair for the whole family. For all ages, we have fun nostalgic fairground games, contemporary video games and, of course, great prizes!
Fairground
We have a wide range of games. Actually, there are two types: games where you can win points and video games.
Many games you will know from the fun fair; ball rolling, basketball, ball shooting, slot machines and many more. Alongside are pictures of our most popular games. Click on them for a brief explanation.
With video games, the aim is, of course, to get the highest score possible. Whether you like car racing, dancing or shooting, you can have a great time. Of course, pinball machines are not missing either! You will find some examples of these games as well.
With the points won, you can pick out fun prizes at our prize shop.
In the same building as Funhouse Renesse, you can also:
Have a gamble at Funtastic or play a game of pool, snooker or billiards at Cue Action.
Furthermore Funhouse Renesse is near the following sights: Bowling Renesse (±0 m) & Tennis & Midgetgolf Renesse (±850 m).
For information:
Hogezoom 182, Renesse
tel. +31 644 070 589
web.
Website