Aqua Mundo Port Zélande - Swimming pool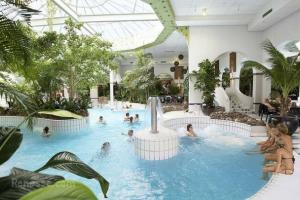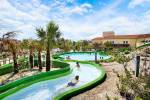 Between the tranquil Grevelingenmeer and a North Sea beach, situated in the heart of Holiday Park Port Zélande, lies the subtropical swimming pool Aqua Mundo. It serves as a perfect destination for both a rainy day and a cosy, sporty day out.
Whether you're craving an adrenaline rush or longing for a peaceful swimming experience, there's something for everyone. The entire family can enjoy hours of water fun here. Take a soothing dip in one of the pools, swim laps in the large pool, or let the kids play and swim for hours in this water paradise. Be enticed by the adventure on the fast water slides, feel the exhilarating rapids and let the waves in our wave pool carry you away.
The children can safely splash and play in the kiddie pool, while the large water playground provides a source of endless amusement. Parents can relax on a comfortable sun lounger with a magazine in hand.
Accessible to Everyone
The pool is accessible to everyone, not just the guests of the holiday park. To ensure you secure a spot, it's necessary to reserve online in advance.
Experience the tropical ambiance, the warm water, and the numerous exciting and relaxing water attractions that Aqua Mundo has to offer. The subtropical swimming pool Aqua Mundo Port Zélande is a cherished spot for many families and creates lasting memories.
Furthermore Aqua Mundo Port Zélande is near the following sights: Watersport Brouwersdam (±3,1 km) & RTM Tram Museum (±3,2 km).
For information:
Book tickets online
Port Zélande 2, Ouddorp
tel. +31 111 674 000
web.
More information