Middelburg Boat Tour - Rondvaart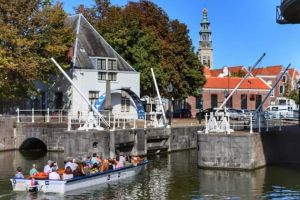 A boat tour on the waters of Middelburg is the perfect way to explore the city comfortably and get to know interesting facts. In an open boat that seats 54 people you go through the canals of Middelburg. During the trip of about 40 minutes, the skipper tells you all about the beauty that Middelburg has to offer. He is also the one who warns passengers of low bridges: "All down!"
Furthermore Middelburg Boat Tour is near the following sights: Zeeland Museum (±700 m), Indoor Karting Middelburg (±2,1 km), Mini Mundi (±2,6 km), Indoor Playground Monkey Town Middelburg (±2,6 km) & Bounce Vally (±2,7 km).
For information:
Rondvaart Middelburg
Achter de Houttuinen 39, Middelburg
tel. +31 118 643 272
web.
Website