Stoomtrein Goes-Borsele - Attraction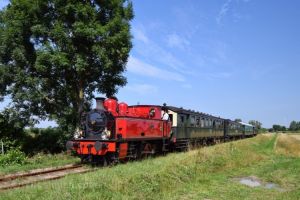 A ride on the steam train from Goes through Kwadendamme to the scenic village of Hoedekenskerke will take you back to the past: the days of the railroads of the thirties.
The railway of the steamtrain Goes-Borsele crosses the beautiful landscape of the province of Zeeland. Sitting on wooden benches in third class or on the luxurious pluche in first or second class you will enjoy a relaxed train ride in a nostalgic atmosphere.
New (since 2010): On the blue and violet days in the time table, we also provide a new railcar service with our nostalgic railcar. This train not only stops in Goes, Kwadendamme and Hoedekenskerke, but also at the re-opened stations of `s-Gravenpolder=`s-Heer Abtskerke, Nisse and Baarland.
Furthermore Stoomtrein Goes-Borsele is near the following sights: Omnium (±1,9 km) & De Goese Golf (±3,6 km).
For information:
Stephensonweg 9, Goes
tel. +31 113 270 705
web.
Website